The National Institute for Research in Rural Engineering, Water and Forests (INRGREF), GENMEDA member in Tunisia, are pleased to invite you to the 20th International Scientific Days of INRGREF.
These International Scientific Days will be organized by INRGREF and will take place from 16 to 18 May, 2023 at the Blue Marine hotel (ex. Laico) in Hammamet, Tunisia.
Save the date!
The INRGREF International Scientific Days will take place at the Cap Bon peninsula in Hammamet, one of the most beautiful seaside resorts on the Tunisian coast with spectacular landscapes where the blue of the sea merges with the green of the golf courses.
Aims and Contributions
The INRGREF International Scientific Days aim to promote the exchange of knowledge around aspects related to the Sustainable Management of Ecosystems for Agroecological Transition and food security.
We hope that contributions stimulate interactions between representatives of extension services, researchers and the profession in order to define new approaches to sustainable management to improve the resilience of ecosystems and achieve food security. These days will also be an opportunity to strengthen exchanges between researchers from several disciplines and thus consolidate INRGREF's networking by opening the way to possible multilateral collaborations.
Accommodation
The INRGREF International Scientific Days will take place at the Blue Marine Hotel (ex. Laico) with two nights full board accommodation. All necessary information regarding the submission process is available on the Days website: SUSTAINABLE MANAGEMENT OF ECOSYSTEMS FOR AN AGROECOLOGICAL TRANSITION AND FOOD SECURITY - Sciencesconf.org
See jpg file of announcement here: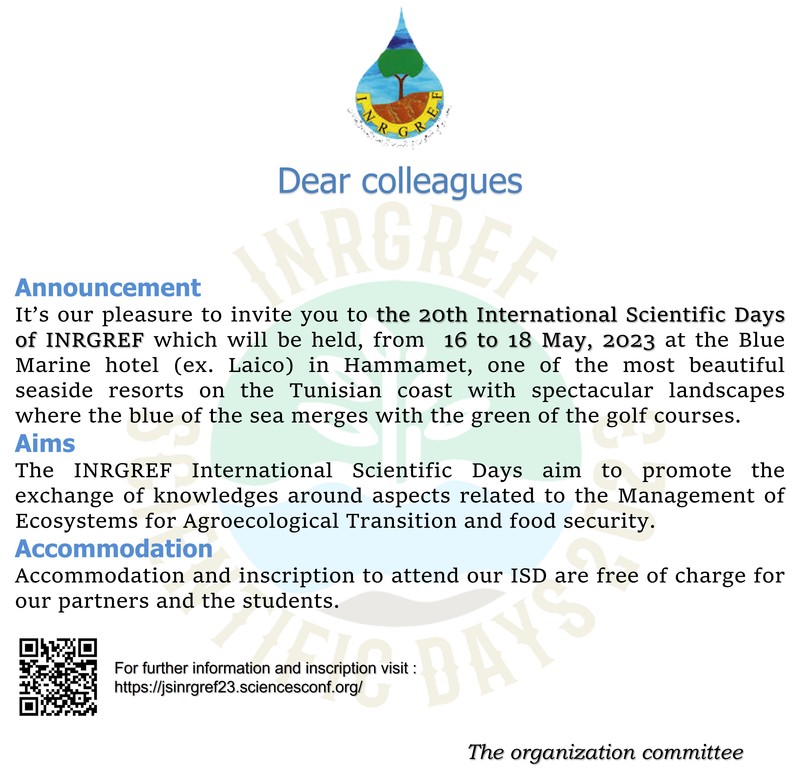 All news