The pilot project "Gavdos Island - Crete - Endangered Plant Recovery Project" (2021-2022) was implemented in the context of the wider project "Mediterranean Islands Collective: Collaborating to protect Nature on Mediterranean Islands" in which 25 organizations (including institutes, NGOs and municipalities among others) participate from all over the Mediterranean.
This pilot project was implemented by 2 GENMEDA members, the Mediterranean Plant Conservation Unit of CIHEAM-Mediterranean Agronomic Institute of Chania (MPCU-MAICh) and the IUCN/SSC/Mediterranean Plant Specialist Group, in cooperation with the Municipality of Gavdos.
The project actions focused on the conservation of the two most endangered plants of the small Greek island of Gavdos, located in the southwest of Crete. Among others, two Action Plans were elaborated, one for the small annual endemic of Gavdos Bupleurum gaudianum and one for the annual hygrophilous plant considered Critically Endangered Callitriche pulchra.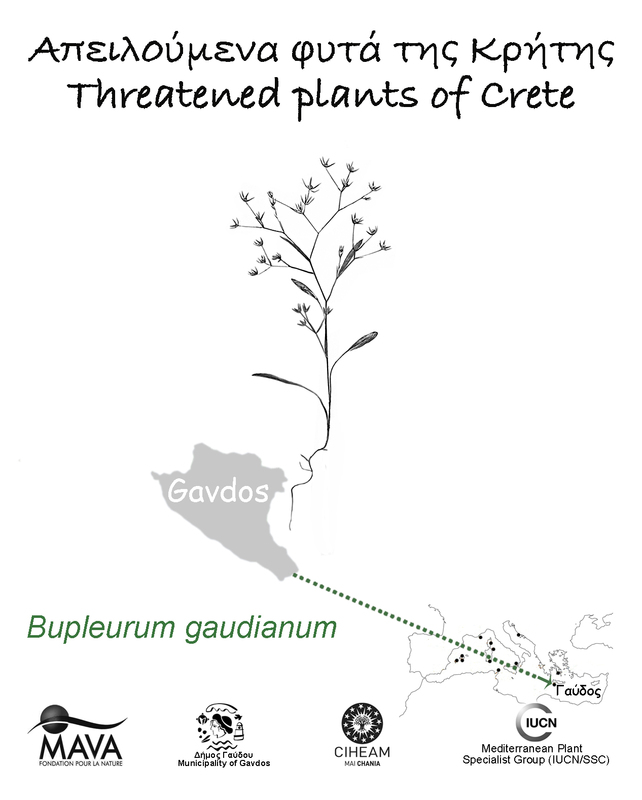 Sketch on t-shirts and cotton bags produced by the project for Bupleurum gaudianum
Also, an informative booklet on the threatened plants of Gavdos was published in English and in Greek.
The project was funded 50% by the MAVA Foundation and 50% by CIHEAM-Mediterranean Agronomic Institute of Chania.
Download Action Plan for Bupleurum gaudianum here.
Download Action Plan for Callitriche pulchra here.
Download informative booklet here: EN & GR
All news