Conservatoire Botanique National Méditerranéen of Porquerolles (CBNMed)

Country: France | Region: Languedoc-Roussillon, Provence, Côte d'Azur.
The Conservatoire Botanique National Méditerranéen of Porquerolles (CBNMed) was created in 1979. It is a public institution of an administrative nature attached to the National Park of Port-Cros. It covers all the Mediterranean continental French regions: Languedoc-Roussillon, Provence and Côte d'Azur. It was designed national botanical conservatory in 1990.
The Conservatory carries out the inventory of flora and natural and semi-natural habitats in collaboration with a network of researchers and botanists working on the field for location and inventory of threatened species populations, health check evaluation and nature and threat degree analysis.
In the framework of this mission related to flora inventory and knowledge improvement, the Conservatory carries out several actions such as prospecting, dynamization of collaborator's network and historical data compilation. All this information is processed before its inclusion in Conservatory databases which make up its flora information system.
In situ conservation is based on national, European and international regulations focused on the preservation of protected species and their natural habitats. In this sense, the Conservatory has set up direct dealings with landowners and private entities who manage natural sites in order to help them to better consider their flora diversity.
Ex situ conservation is species conservation carried out outside their natural habitats, throughout vegetal species culture and living plant collections or seed banks.
The Conservatory seed bank has more than 2.000 species at this moment, contained in more than 10.000 batches which are conserved under refrigeration at +4ªC or lyophilisation conditions. Thus, seed bank gives an extra safety to ensure the survival of plant species which are more sensitive to climate change. In addition, it allows carrying out studies on germination and culture of rare and threatened species, population reinforcements of endangered and threatened with extinction species and restoration of degraded habitats. Hence, seed bank is an effective tool for preventing definitive extinction or certain species.
Contact
Lara DIXON – Pôle conservation
l.dixon@cbnmed.fr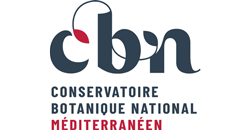 Conservatoire Botanique National Méditerranéen of Porquerolles
34 avenue Gambetta - 83400 Hyères - France
Tél: +33 04 94 16 61 40
Website: http://www.cbnmed.fr/